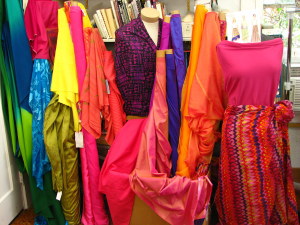 Lady Lynn's carries top quality natural fiber fabrics, patterns, notions & supplies for sewing garments.  We specialize in fitting,  altering, mending or creating garments for you.
" Every body is perfect. . .we fix clothes."
We contract with LeatherCare Inc. for leather cleaning, repairs & simple alterations like hems & sleeve shortening.  We have another contractor who does home decorating projects such as curtains, pillows, duvet covers & embroidery.
*We do not do upholstery, outdoor gear (tents, backpacks, etc.) or major leather alterations.
"I've never had a garment like that taken in. She did a WONDERFUL job. You can't tell at all that it was taken in (in a good way). She was quick too, less than a week (around 5 days)."
"The woman working was awesome, willing to talk to me about all kinds of different options. I'm making my own skirt for my wedding, but I'm a super-beginning seamstress, so I have a lot of questions about how different fabrics are going to drape. She was super helpful and gave me lots of different options and ideas. I was also thinking the prices were going to be a lot higher than the box store, but they weren't. They had a greater range of fabrics from fancy silks to basic cotton, and the prices were consistent with the box store I had just come from."